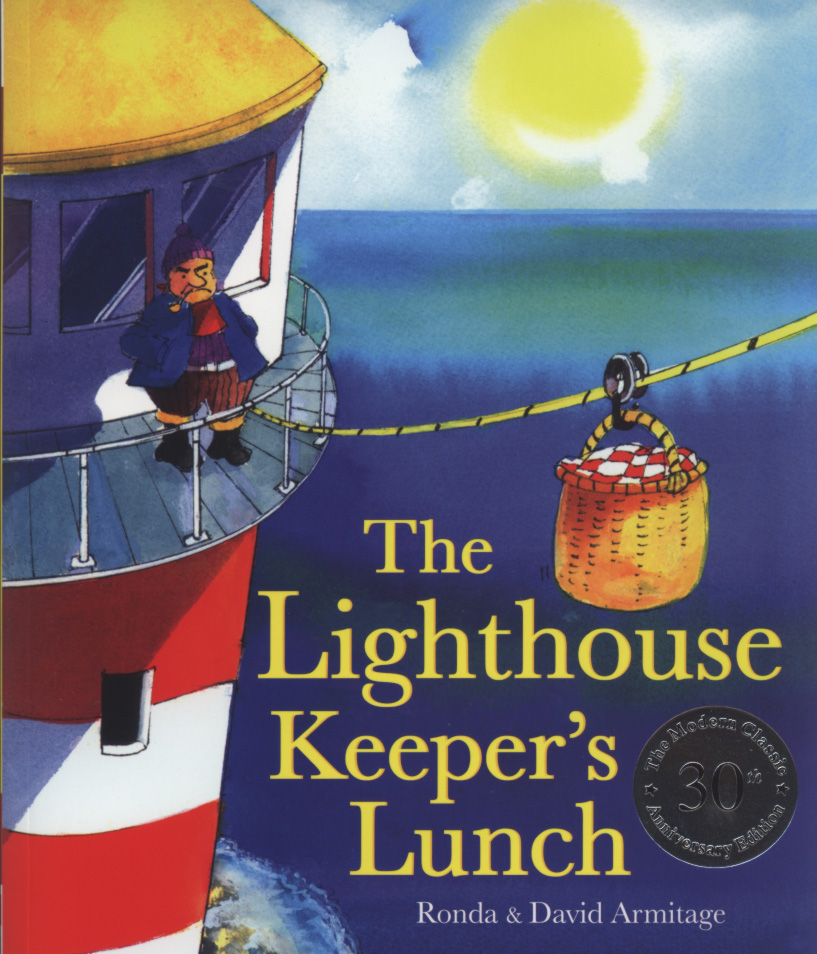 This is an old book but a real classic that has been used in classrooms for many years.  First published in 1977, it is one of those books in which all the elements of a good children's story come together to form something special.
Mr Grinling is the lighthousekeeper.  He lives in a cottage on the side of a hill directly opposite the lighthouse.
Every day, Mrs Grinling packs him a (quite frankly delicious) lunch and hangs it on the wire that connects the house and the lighthouse, so it travels across to him.  But one day, a pack of voracious seagulls discover their system and help themselves to the lunch.  By the time it gets to Mr Grinling, there is nothing left.  The next day, Mrs Grinling ties the napkin on to the basket to protect it, but this is no match for the scavenging birds.  Next she tries sending the cat over in an identical basket to defend the lunch, but he is so terrified that he cowers pathetically in the bottom and pays no attention to the seagulls.  Then, finally, she has an ingenious idea that puts the seagulls off for good.
The illustrations are beautiful. Scruffy pen and ink and watercolour drawings, the stalwart Mr Grinling and his pipe, the homely Mrs Grinling and their reluctantly put-upon cat are brought to life by David Armitage with expression and humour.  The text too is of high quality; a funny, pacey story with words you can relish.  Mr Grinline is 'a most industrious lighthousekeeper' and the moment at which the seagulls descend is also nicely put: "Three scavenging seagulls set upon it and devoured it with great gusto."  There are also comic touches from the seagulls, who discuss their stolen fare in speech bubbles with some enthusiasm and address each other by name: Fred, Tom, and Bert.  One of the best moments however is the deadpan delivery of the attempt to get Hamish the cat to guard the lunch basket. " 'A most ingenious plan,' agreed Mr Grinling.  Hamish did not think this was ingenious at all."
A classic story, original and funny with lots to talk about.